Employment Statistics: Professional Programs
PROFESSIONAL PROGRAMS
Johnson Cornell Tech MBA – 2015-2020
The majority of the JCT MBA graduates seek full-time jobs or pursue their own ventures. In 2020, 63% of the graduates sought full-time employment and 23% started their own businesses.

Note: n- indicates the total number of Johnson Cornell Tech MBA graduates each year; Other paths — graduates returning to their pre-MBA employer, pursuing fellowships and/or other personal, non-degree related interests or continuing their education (e.g., medical school or PhD). 
88% of those seeking full-time jobs reported accepting a full-time offer within 6 months of graduation. Consistent with the prior years, the majority of accepted jobs in the class of 2020 were with mature or startup tech companies in Product Manager, Product Marketer, Consultant, or Enterprise Sales capacity or in technical/digital capacities within non-tech sector companies.
Johnson Cornell Tech MBAs benefit from the strong network of companies that have engaged with Cornell Tech over time. Examples of companies that hired 2020 graduates included Amazon, Cisco, Datadog, E&Y, Google, McKinsey, Verizon Innovation, Tata Consultancy Services, The New York Times, Zynga, and others.
Johnson Cornell Tech MBA 2020 Class Spotlight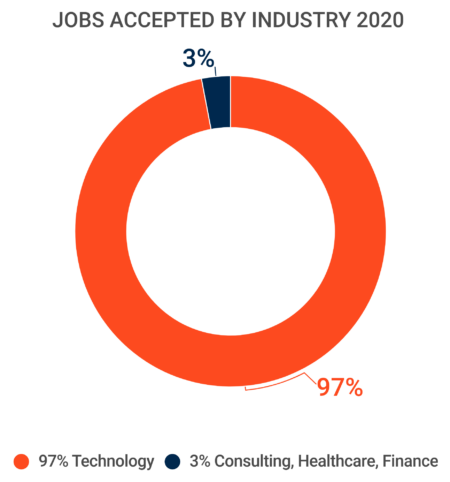 Note: Consulting indicates industry denomination; accepted roles were technology-centric rotational programs or product roles.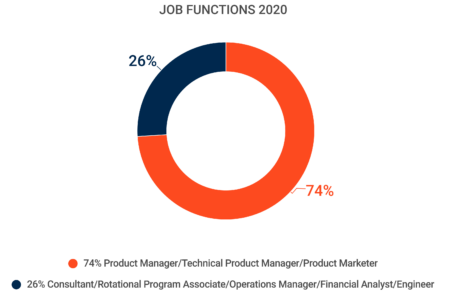 Post-Graduation Location
Note: The above numbers include all graduates in each cohort regardless of their post-graduation paths.
For the employment information on other Johnson MBA programs (in Ithaca), please refer to the Johnson Career Management site.
Compensation
The median base salary for the class of 2020 was $140,000, and the median sign-on/first-year bonus was $45,000. As most students accepted jobs with tech companies, a significant portion of the annual compensation is represented by equity, the value of which compresses salary relative to offers with no equity component.
Master of Laws (LLM) in Law, Technology, and Entrepreneurship
Each year the Cornell Tech LLM carefully selects a small group of lawyers dedicated to meeting the needs of tech and tech-dependent industries in a business-focused and holistic fashion. The classes of 2019 and 2020 had 15 and 16 students respectively. At nine months past graduation, 100% of reporting graduates from both years who sought employment were employed.

Note: n- indicates the total number of Cornell Tech LLM graduates each year. The above percentages may not add up to 100% due to rounding.
Cornell Tech graduates have accepted offers from firms and companies large and small, from Cravath, Cooley, Dentons, and White & Case to innovative firms that serve the startup community like J&O Law and Renno & Co. Those choosing to practice law in-house have joined established companies like Deloitte, Tapestry, PlayStation, and LG as well as emerging companies like Starlight Energy Corp, Traackr, and Elevate. Cornell Tech alumni are building and strengthening the global technology industry working for funders like Honest Bank and companies that define industry best practices like TrustArc. Some of our graduates are teaching in law programs around the world and others are informing policy as fellows with foundations like NewAmerica. We even have alumni working in government to establish their nations as tech leaders.
Should you have an interest in learning more about the paths taken by our graduates, please contact Cornell Tech Admissions at admissions@tech.cornell.edu and we will connect you with someone who can share more information.