OnePlace: A Central Gathering Hub for Families
A stroll through the American Museum of Natural History was the catalyst, but OnePlace co-founder Daniel Asper, Johnson Cornell Tech MBA '20, had been imagining what a digital information hub for families could look like for some time. Lessons from The Hall of African Peoples sparked more thinking around the importance of family in society and how a central place for your tribe's tools and information has always been important through the generations. This seemed like something that needed to exist for modern family life, and so the journey to build OnePlace began.
From the museum to the marketplace
OnePlace aims to help families prepare for life events with the tools and guidance they need to keep track of their most important documents in "one place." Chief Product Officer Sunny Ladkani, Johnson Cornell Tech MBA '20, said that along with safe and secure document storage, the platform will initially focus on the gathering of life's most important documents — they expect to see private essentials like passports, wills, insurance, healthcare, identification cards, and more in digital form. The interface will be instructive and visual to help users know what they need.
The OnePlace vision takes a long-term approach — looking at where society is going to be rather than where it is now. The team envisions OnePlace as the technological dwelling of information not just years down the line, but entire generations and more. The goal is to aid with familial collaboration in organizing and storing the paramount data for the entire family, with eyes fixed toward what will be helpful to have on hand for the future.
The inventiveness and work that followed resulted in the newly graduated foursome receiving co-working space on the Cornell Tech campus for the team to pursue their startup.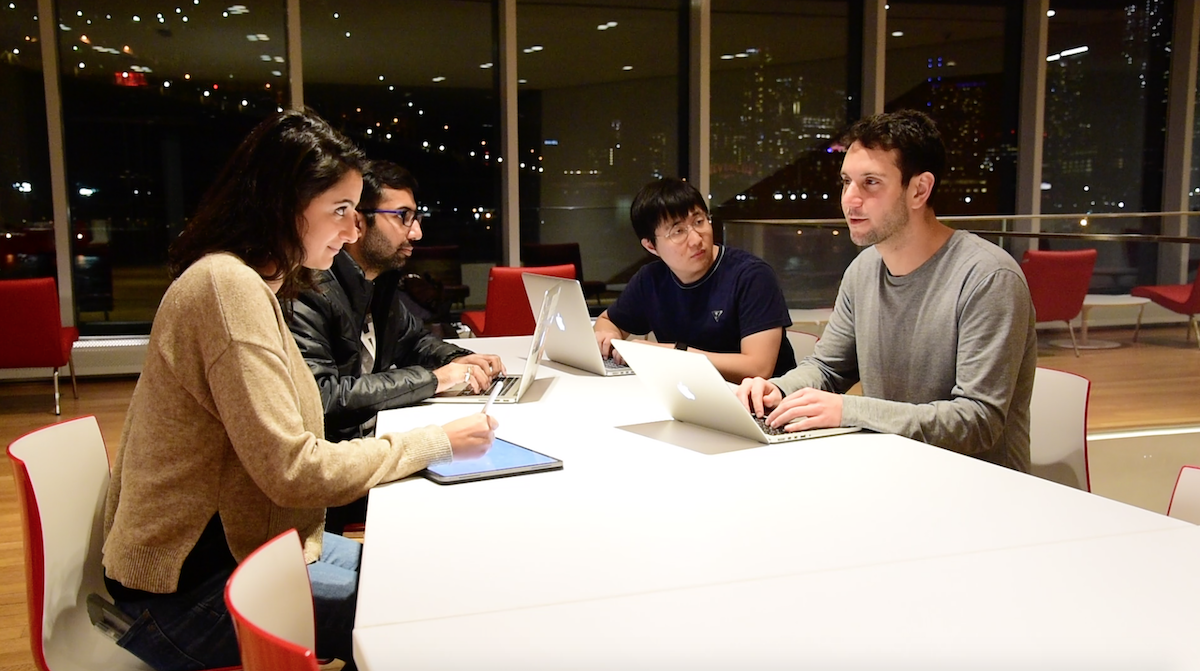 Solving shared problems collectively
Asper, Ladkani, and their fellow co-founders, CEO Yasmin Lalani, Johnson Cornell Tech MBA '20, and Chief Design Officer Ryan Kim, Master of Engineering in Computer Science '20, each encountered their own difficulties as they left home as adults. Daniel, Sunny, and Yasmin all graduated the MBA program and met last summer in Ithaca, while Ryan joined the crew in NYC after he and Daniel immediately clicked in an AR/VR class. "We all complement each other very well — we are each confident in our different ideas, qualities, and skills," said Ladkani. 
"Our idea affects me personally — I'm Korean, so my family lives overseas," said Kim. "We always had a problem keeping track of documents and other things, so when Daniel came to me, the idea jived with me. So, I bring my personal skills and passion into this."
"Similar to Ryan, I have a spread-out family," said Lalani. "My dad once gave me an elaborate printout — kind of a treasure hunt — which clued us to his bank account password. Then in a bathroom cabinet, there's a key to a safety deposit box in New Jersey. As much as I'd like to think I'm the type of person to remember all that amid panic and confusion, it's stressful to think that if something happened I wouldn't be able to find all the important stuff."
These stressors led the team to seek confirmation that the difficulties were widespread. After confirming these same problems in their peer group, they started conducting user interviews for those who would use the product. "We wanted to both build a product and create something meaningful and powerful to solve these problems," said Asper. "We first worked with our own families to develop the concept and product. It allowed us to go deep into what the product needs to look like." Like Asper's day at the museum, OnePlace will showcase the uniting importance of small groups on a practical and emotional level. "We liked the idea and felt that even in the worst-case scenario, we'd build it for our four families. So I was on board with that," said Lalani.
The slow roll-out toward a long-term solution
The intended business model will be priced as either a monthly or annual fee that will be lower than the price of a streaming service to store the information on the platform. The OnePlace team said they would welcome corporate partnerships, but will not sell user data to third parties, and only anticipate using data from the platform to make it more functional and beneficial for users. 
They are avoiding a traditional marketing campaign, opting instead for a focus on building out the product and paying close attention to the concerns of beta users. The team wants the product to be refined before scaling out too quickly. "We are always wanting to listen to customers and won't stop doing that," said Asper. "We don't want to lose touch with them. Adaptations will have to be made, so we are building it to be flexible, thoughtful of how it can change, and building it so that a person in your family in 100 years will benefit from it."
OnePlace seeks to bring the type of reconvergence of the important information families rely on both now and into the future, toward the yet-to-be-born generation who will reap the benefits of what is placed in the digital rucksack of OnePlace.
RELATED STORIES
Open Studio, Recognition, research, and more! NEW YORK, NY – The 2022 …