Students Collaborate with Zillow To Empower Home Buyers in BigCo Studio
Choosing the right home in the right place is no easy task. A new tool, developed by students working with real estate marketplace Zillow as part of Cornell Tech's BigCo Studio, aims to make the process smoother for home buyers. 
"It is not all theory, we were actually putting into practice what we are learning," said team member Diana Neves, Johnson Cornell Tech MBA '20. BigCo Studio gives graduate students the chance to innovate within the cultural and organizational structures of a large company.
Along with team members, Achal Gupta, MBA '20, Amanda Komsky, Mandy Kong, and Shruti Patel, all Masters of Engineering in Computer Science '20, and Serena Liu, Parsons Design and Technology Program MFA '20, Neves developed a map-based visualization platform, Zillow ReCon, that allows buyers to carry out better neighborhood research, empowering them to make more informed decisions when purchasing their homes. 
Innovating Within a BigCo
The BigCo team members are like-minded but diverse. They have skill sets spanning computer science, UX/UI and product design, and marketing. "We didn't want a team full of people with the same experience — we wanted to also learn from our groupmates," said Neves.
To kickstart the collaboration, Zillow outlined several areas of identified pain points and room for improvement. After that, it was up to the team to focus in on one area and present their solutions.
Research was key. The team talked with homebuyers to identify frustrations in the purchasing process, investigated statistical data via online sources such as The National Association of Realtors, and spoke to Zillow employees. As Neves said, "We wanted to know: what are their main priorities? What are they working on currently? What opportunities do they see for improvement in the product?"
As they honed their ideas, factors such as technical feasibility and value for the company were considered. Input from Cornell Tech Fellow and BigCo Studio instructor Chad Dickerson was invaluable, said Neves. "Buying a house has so many more frustrations than the one we chose to work on. He really helped us narrow it down and to focus on what would be most valuable for the user."
Understandability of neighborhood data emerged as a key frustration. This information tends to be scattered around the internet, said Neves. "It's really hard to understand the vibe of the neighborhood, whether they have schools, if they have supermarkets — and not only in the neighborhood, but also within a block or smaller area."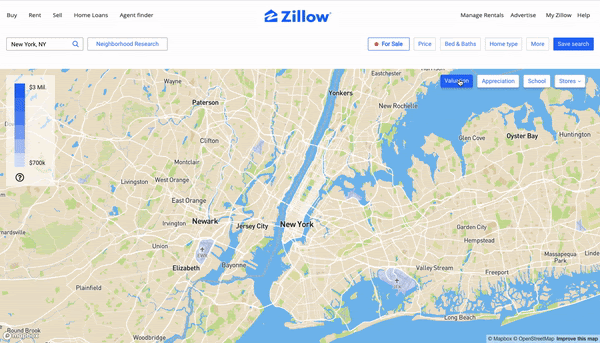 Building Visualization Tools to Ease User Frustrations
The Zillow ReCon platform provides a solution by integrating easily accessible neighborhood information—such as the locations of cafes and stores—and appreciation and valuation data alongside traditional property attributes, such as home type, bed and baths, and price.
The team's diverse skill set made it easy to divide up tasks, said Kong. "The back-end focused on collecting the data using the NYC Open Data source and then, based on that data, [the back-end team] created some machine-learning models to predict the five-year appreciation."
The front-end side was then responsible for making the data, such as appreciation and valuation, accessible. "We wanted to show the data in a very easy-to-understand manner, so we decided to use a heat map showing different intervals of values in different colors," said Kong.
Working within a large company fostered collaborations and provided the BigCo team with access to invaluable resources and deep technical expertise. Interacting with the Trulia and StreetEasy developer teams — who are also part of the Zillow group — gave UX/UI designer Liu real-world insight into how digitization is impacting real estate marketplaces. "Now most of the work is done by the real estate agent, but, actually, there are a lot of processes that could be digitized," said Kong.
The team has presented their solution to those at Zillow and it will be used as a source of insights by the engineering team going forward.
RELATED STORIES
Open Studio, Recognition, research, and more! NEW YORK, NY – The 2022 …