Smart Cities Workshop Unites Cornell Campuses, Urbanism Community
By Katie Blitz
As the world becomes increasingly urbanized, innovative technologies are being implemented to develop smart cities, which use sensors and data to inform the design, policies and management for urban environments. The multifaceted industry provides many opportunities for interdisciplinary academic collaboration, while also creating an environment for real-world implementation and impact.
In late June at Cornell Tech's Roosevelt Island campus, the Autonomy and Mobility in Engineered and Natural Environments (AMbiENtE) Workshop highlighted the latest research and proposed solutions from the smart cities and urban technology academic communities.
"This theme for this workshop is ideal for fostering synergies between Ithaca-based faculty and Cornell Tech-based faculty," said Silvia Ferrari, John Brancaccio Professor of Mechanical and Aerospace Engineering, who co-organized the AMbiENtE Workshop. "Topics like smart cities naturally bring together areas such as architecture and engineering, but also computer science and urban technologies in a way that's very powerful and fundamental."
Keynote speakers at the workshop included John Albertson, professor of civil and environmental engineering; Anna Scaglione, professor of electrical and computer engineering at Cornell Tech; and Carlo Ratti, professor of urban technologies at the Massachusetts Institute of Technology.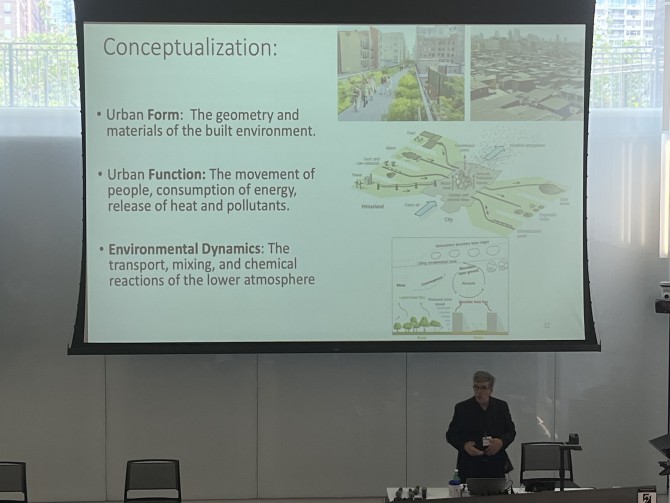 Albertson's presentation focused on connecting different types of sensors in urban environments and how the resulting data can be used to inform infrastructure such as transportation in order to decrease risks to public health. He suggested that the emissions from the function of urban infrastructure, their interactions with the lower atmosphere and prevailing meteorological conditions could serve important roles in mapping emissions to impacts, and subsequently allowing cities to maintain a healthy and equitable distribution of air quality.
While Albertson's research focuses on engineering, he stressed the importance of equal partnership between his own discipline and others when researching and implementing smart cities solutions.
"Doing nothing is not really an option. Doing nothing is moving backward because the data is becoming publicly available," said Albertson in his keynote entitled, "Engineering Smart Cities: The Interaction of Urban Form and Function Within the City's Environmental Envelope."
Albertson, who is an Atkinson Center for a Sustainable Future fellow, added that "People are using this data and making decisions on where to move their companies or families."
Scaglione's presentation explored the transformation of an electric power grid not yet optimized for the growing electric vehicle market or renewable energy. Scaglione highlighted possible solutions to this issue, emphasizing the design of digital interfaces meant to help individuals make driving and charging decisions while also using data to foresee the collective behavior of electric vehicles at the transmission grid level.
"There are challenges that go from the conception to the practical with electric vehicles and the electric grid, but this is a big opportunity," said Scaglione in her keynote entitled, "The Coupling of Electric Power and Transportation Infrastructures: Opportunities and Challenges."
Scaglione added: "We have to be careful because green electricity is necessary for true energy efficiency. If you don't charge your car with green electricity, then the CO2 emissions are not really different from internal combustion engine vehicles."
Ratti's presentation, "Senseable Mobility," highlighted the potential the convergence between digital information and the physical environment has for applications such as waste management, energy, public health, civic participation, and mobility.
As examples, Ratti said real-time data collected from cities can transform how roads are designed, and can  "flatten the curve" of peak-hour road usage through staggered commuting.
Other co-organizers of the all-day workshop were Cornell Tech professors Andrea Lodi and Deborah Estrin; Michael Samuelian, director of Cornell Tech's Urban Tech Hub; and Riccardo Lattanzi, co-chair of the New York chapter of the Italian Scientists and Scholars in North America Foundation.
Sponsors of the workshop included the Urban Tech Hub of the Jacobs Technion-Cornell Institute and Cornell Atkinson Center for Sustainability, which brought together resources from both the Ithaca and Cornell Tech campuses, including faculty, funding and students that are dedicated to these themes.
Future collaborations between the two campuses could include the Cornell Institute for Digital Agriculture, according to Ferrari, where many of their technologies can be used in urban or mixed environments to gather information on pollutants and air quality.